Deciding Your Investment Budget
A lot of people associate investing in the stock market with the uber-wealthy or Wall Street executives, but investing in the stock market is actually one of the most common ways average-income households become millionaire households. We know when you're getting started, you may have a limited amount of money left over each month to save and invest. But the good news is that you can start investing with less money than you think.
Many investment platforms, like baraka, for example, don't require a minimum investment amount, meaning you can invest in thousands of securities with however much capital you feel comfortable starting with. With platforms like baraka, we don't require a minimum investment amount, which means you can invest in thousands of securities with however much capital you feel comfortable starting with. We even offer products like fractional shares which allow you to invest a portion of a stock, making it easier to invest in high-priced stocks and still be able to diversify your assets—even with small amounts of money. We also have a feature that allows you to use Dollar Cost Averaging in your investments. Auto-Invest allows you to invest a specific amount of money in Stocks or ETFs at set intervals you choose.
Amazon Stock Performance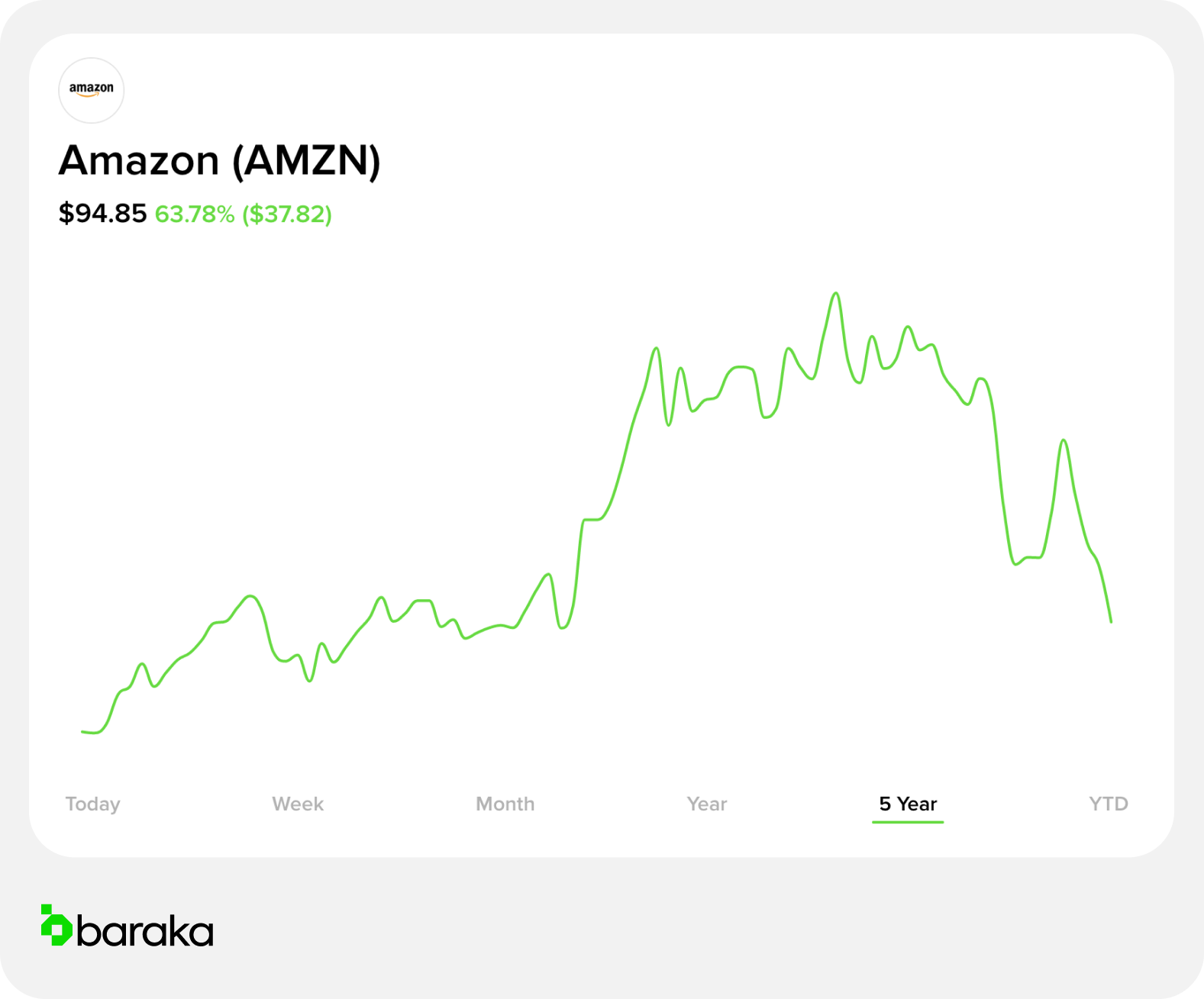 Amazon's stock price fell 12% last week, according to data from S&P Global Market Intelligence, extending the decline in its share price since its third-quarter earnings report on Oct. 27.
Amazon's net sales rose 15% year over year to $127.1 billion, the company said in an earnings release. Excluding foreign exchange movements, Amazon's revenue was up 19%.
Though, investors were disappointed with the slowdown in sales growth for Amazon's cloud business, Amazon Web Services (AWS) which dropped to 27% from 33% in the second quarter and 39% in the year-ago period. The unit is one of Amazon's most important profit drivers, so investors were understandably concerned about the deceleration in the segment's pace of expansion.
In addition, fulfillment and labor costs continued to rise for Amazon's retail business, while its cloud computing business saw operating income fall 49% to $2.5 billion.
How to Open Your baraka Account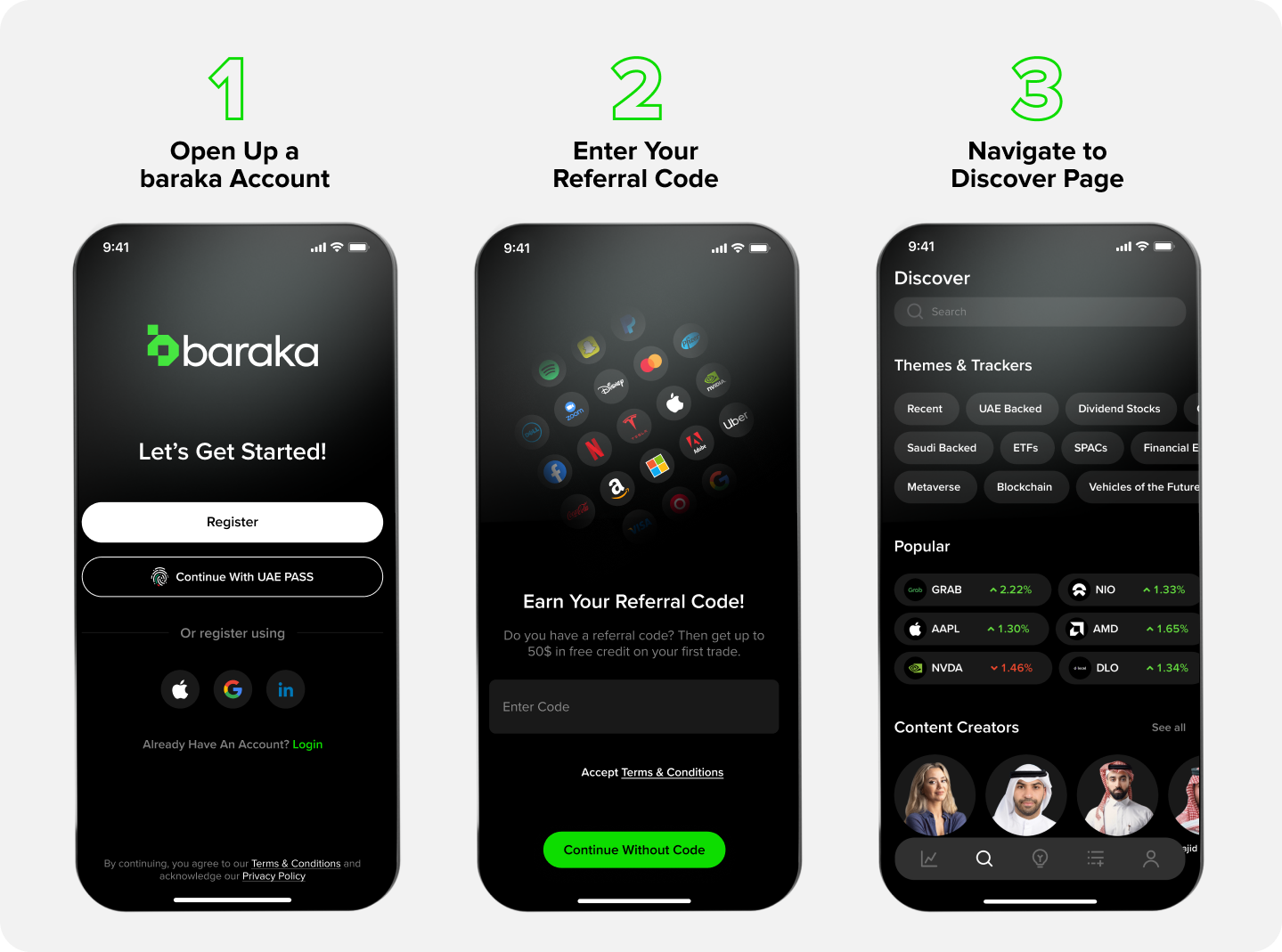 Follow the below to set up your baraka account
Download the baraka app from either the App Store or Play Store
Open the app and sign up with your email address and phone number
Complete your onboarding process by submitting a proof of identity document
Fund your account with one of our many easy funding options
Khalas, you are ready to trade
Investing Strategy: Dollar Cost Averaging
Dollar-Cost Averaging (DCA) is a passive investment strategy that aims to reduce your exposure to timing risk and speculation of particular asset prices. baraka investors can now automate their investments at regular intervals on a consistent basis, irrespective of the price and market conditions.
Investment Plan
With baraka, you can access detailed stock analysis from Refinitiv including analyst price target estimates. Refinitiv is an LSEG (London Stock Exchange Group) listed business and is one of the world's largest providers of financial markets data and infrastructure.
As a valued baraka premium tier member you can get unlimited access to in-depth company research that includes buy-hold-sell recommendations, 12-month price targets, sector analysis, and stock score across 8 categories (earnings, fundamental analysis, relative value, price momentum, risk, insider trading) as well as comparative analysis.
Order Types
Nowadays, many investors are choosing to purchase and sell stocks on their own through digital trading platforms, instead of paying advisors high commissions to conduct trades as a result of the widespread use of digital technology and the internet. But before you start buying and selling stocks, it's crucial to comprehend the various order forms and their proper applications.
Market Orders
A market order is a command to buy or sell an asset right away at the current market rate. The amount you pay to buy a stock will typically be at or close to the advertised 'ask' price. If you decide to sell a stock, you will get a price that is equal to or close to the posted bid.
One thing to keep in mind is that the price at which the market order will be executed may differ from the price at which it was last exchanged. The price at which you actually execute (or fill) the trade can differ from the last traded price in quick-moving and volatile markets.
The advantage of using market orders is that you have the benefit of knowing that your trade will be filled and completed as soon as possible. Market orders for stocks that trade over tens of thousands of shares per day will probably be executed close to the bid/ask prices, even though the investor does not know the exact price at which the stock will be bought or sold.
Limit Orders
Limit orders are placed by investors keeping a target buy or sell price in mind. Investors may want to buy the stock at a lower target price than the current market price. Similarly, Investors may want to sell a stock they currently own when the stock reaches a target price, which is above the current market price. In this instance, the price of the order would be guaranteed, but the actual filling of the order depends on whether or not it meets the set criteria.
How to Buy Amazon Stock with baraka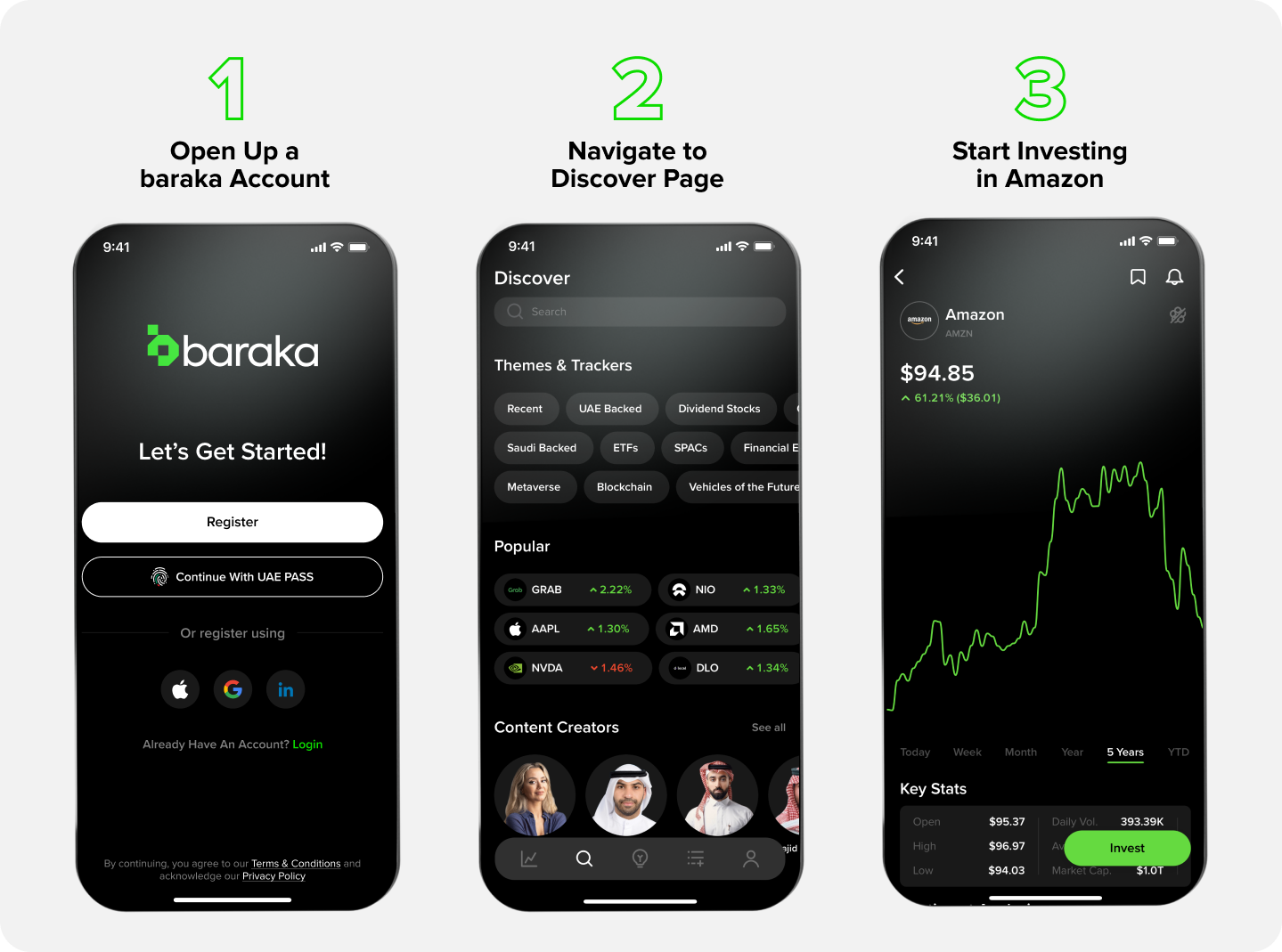 1- Search for the Amazon stock on our discover page
2- Click the invest button
3- Determine the value of your investment
4- Click Confirm
5- You are now invested in Amazon
Checking Your Investment Performance
After buying Amazon stock, you can track its performance in your portfolio and set alerts according to your investment goals.